A video currently trending online captures the moment two women get into a physical altercation, with a man intervening to break up the fight.
The exact events leading to the fight are unclear, but those who witnessed the incident can be heard asking questions with no one providing answers, as the three individuals involved were simply going about their "own business".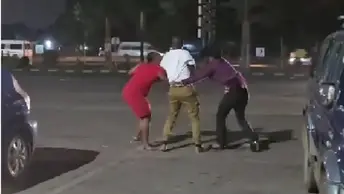 As the video reaches its conclusion, a man can be heard questioning the other woman,
"Ko zvaita seiko? Ko zvanzi maitaseiko?" 

She did not answer and the other woman who claims to be the wife of the man in question answered,
"Ihure remureme wangu iri."
The man did not say anything as he got into his car.

In another case of infidelity, the victim at the center of a shocking incident, where his manhood was allegedly cut off by his lover, has come forward to refute some of the claims circulating on social media, shedding light on the harrowing events that transpired.
He posted a picture of himself in the hospital on his Facebook account but left it without a caption.
This sparked a flurry of comments from concerned social media users who were curious about the incident.
Some of them even dared to ask about the extent of his injuries and the number of stitches he needed.
In response, Tomula Mandaza said,
"Team ini nditori boe ini zvandanga ndri ndozvandri murikumhanya neSocial Media zvakadhakwa," he wrote, addressing the exaggerations.

watch the video below